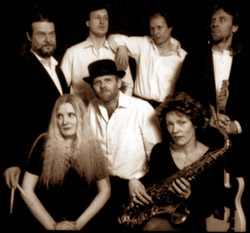 Anders - sax, perc, song
Niklas - bass
Lasen - drums, song
Kjell - keyboard
Per - git, song
Åsa - song
Stina - perc, song
Far away from the slippery city-soul, you´ll find "The Soulutions".
We are a soulband and we´re playing hits.
If the audience don´t recognice a song, it´s because they don´t know yet what a big hit it really is.
But soon they´ll know!
Mostly we find songs from the classic soulrepertory of the 60´s, but also a bit of Talking Heads, Prince, Mink de Ville, Janis Joplin, Tower of Power...etc.
That devide us us from other soulcoverbands,is that we are many singers. Five of us are singing ftom the bottom of our hearts, and the other two are in permanent persuation.